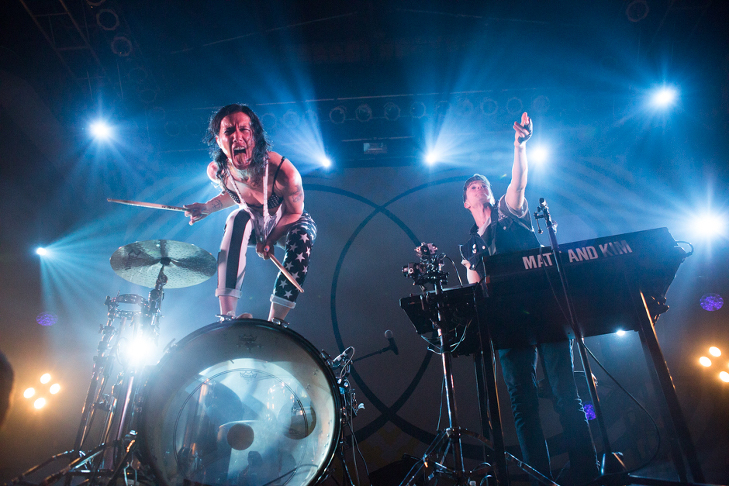 Photographs and Review by Christa Rae Settle
Every time I am at a Matt and Kim show, I am always blown away. Whenever they come to town, I never miss the chance to photograph this indie pop duo from Brooklyn, NY. Their energy on stage is unrivaled. We covered their second D.C. show at 9:30 Club on May 12th, 2015 – both of their D.C. shows are the only ones on this tour so far to sell out!
As my friend Sam accurately stated, when you leave a Matt and Kim concert, you leave wanting to experience it again. She is so right! A Matt and Kim concert is more than just a show where they perform songs off of their albums. It's like you are at a giant party, and Matt and Kim are right there partying with you. As Matt said, "we are going up in the club on a Tuesday!"
Even with a sold out crowd, you have this sense of intimacy with Matt and Kim. They are so personable with the crowd and are constantly over sharing the best dirty stories and jokes. In between their songs, Matt and Kim love to play some of their favorite rap and hip-hop songs, and they even mix those songs into their music. It really gets the crowd hyped.
This tour was promoting their new album, New Glow, that released just last month. They performed a few songs off that album, like "Get It", "Hoodie On", and "Hey Now". Of course, they performed many of their hits from their older albums – they even took it all the way back to their very first album, as Matt solely serenaded the crowd.
Matt had torn ligaments and a broken finger during this show from a show a few nights ago, from what he described as that he "…ate sh*t on stage in Denver" but he definitely didn't let that affect the performance or slow him down – "not even 1%," he said on an Instagram post from yesterday prior to the show. You'll see in the photographs that he has two of his fingers gaff taped together.
Of course, a Matt and Kim concert wouldn't be a Matt and Kim concert without Kim's classic booty dances over the crowd. Every show, she has the crowd hold up their hands as she walks out into the crowd and dances over the crowd as they hold her up. Kim is a bad ass!
If you have not experienced a Matt and Kim concert yet, where have you been?! Get yourself to a Matt and Kim concert – stat!! They will be back on the East Coast in a month for Firefly Music Festival, and I can't wait to party all over again with them!