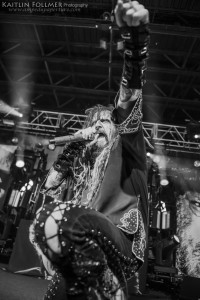 After the release of their newest live album, "Spookshow international live" Gingerfish, Piggy D, John 5 and Rob Zombie set out to play a handful of tour days spanning a few states in the Midwest and east coast. Whenever Zombie comes around I always try to go out of my way to shoot especially in these small club venues. While it's a more stripped down show without the pyro and without the big robots, these guys have a larger than life personalities.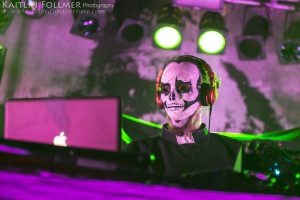 Opening the show was drummer, Gingerfish playing a "metal" DJ set.  Starting the show with Motley Crue's "Kickstart" my heart definitely set the tone for the evening. It was pretty cool watching him as he got really into his mix, he would start head banging and jumping around the stage.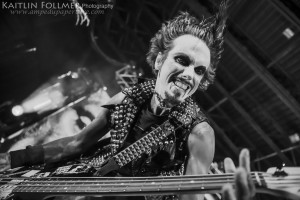 As the lights went dim, and Zombie made his way to the stage and they jumped right into their set opening with Teenage Nosferatu Pussy.  One thing I love about this band, every member has such a vibrant personality, I can't just follow one of them. Joh 5 came out wearing a light up gas mask like contraption over his face as Piggy D ran from speaker to speaker eager to get closer to the crowd. Then there is Zombie, his iconic dance moves and full on dreaded head banging is a spectacle in and of its self. As they moved through their set list they hit some of their most iconic songs, including "Living Dead Girl" "Never Gonna Stop" and "More Human than Human." Though one of my favorite moments of every

Zombie set is just before they preform, "American Band" John 5 comes out with his patriotic guitar and starts playing the Star Spangled Banner picking the guitar with his teeth, then throwing the guitar over his head and playing it upside down. This man is such an insanely talented musician it is incredible to watch him show off his skills. Then finally no Zombie party would be complete without ending the show with "Dragula." As always a killer show at a sold out club venue, I love how diverse Zombie is in his shows and at different venues definitely a show to see no matter what the venue.