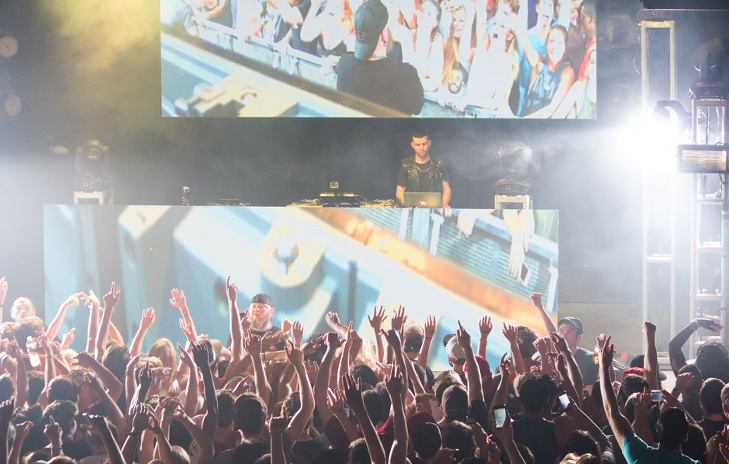 Photographs and Review by Christa Rae Settle.
Last Thursday night, Alain Macklovitch, or better known by his stage name A-Trak, stepped up to the turntables on his Gold Gone Wild tour as Araabmuzik was about done his set. The two spun for a little bit together until about 10:40pm. The lights dimmed and A-Trak started to mix on his own. The crowd was full of anticipation of the music that A-Trak was going to mix for them. He told the crowd that he doesn't play the same set every night on tour. He feeds off of the specific crowd's energy, and from that he decides what songs to mix and how to mix them. That is one of a few reasons as witnessed last night that makes A-Trak one of the most down to Earth EDM artists. Before his set, he was seen hanging between the barricade watching Araabmuzik spin. After being spotted by several fans, he didn't run from them – he hung out, took selfies, and held brief conversations with them. Impressive for an artist about to take the stage in less than twenty minutes!
Canadian DJ A-Trak is not just an EDM DJ / turntablist, he is also a record producer and one of the founders of Fool's Gold Records, in 2007, and Alain and Nick Catchdubs. They are known for blending hip-hop and electronic dance music together in an amazing harmony. A-Trak has an extensive and impressive background as an artist. He backed Kanye West on tour in 2004 and worked with Kanye on his 2005 and 2007 albums. In 2009, he and Armand Van Helden were commonly known as Duck Sauce, and together they made chart topping hits like the song "Barbara Streisand" and "aNYway". In 2013, A-Trak came in 7th place in America's Best DJ competition. This year, he has recently released his latest single "PUSH" and is touring several different countries.
A-Trak's sold out show at 9:30 Club was a blast of energy – like a huge party full of crowd surfing, dancing, and losing yourself to the beat of the music and light show. A lot of the crowd was dressed for a rave – some sporting candy bracelets and lots of neon colors. One fan was spotted in a unicorn head! It's undeniable that A-Trak has a hardcore fan following, and it is exciting to envision what is to come next for this music and record producer!