LetLive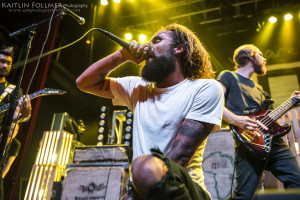 I was pretty stoked to hear that Letlive would be opening the show on this tour. Every time I have seen these guys it has been a completely new show with a whole new set of on stage antics. Vocalist, Jason Butler is quite the spectacle, he does everything from sumersualts to climbing in the rafters and jumping off the speakers. These guys have an insane amount of energy and passion about their music, it's hard not to get into their sets.
Killswitch Engage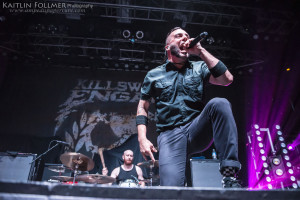 After their reunion with vocalist, Jesse Leach Killswitch has been touring relentlessly, picking up slots on various festival lineups and touring with a wide range of bands. This time finding their way to The Fillmore in Silver Spring MD in support of Rise Against. First seeing the line up I thought it was a little strange, Killswitch is notorious for being a very loud in your face metal band, where as Rise Against leans more to the punk genera. It ended up working out really well, Killswitch seemed to have a very strong fan base represented and definitely picked up some new fans throughout their set. As they came on stage, they opened their set with a fan favorite, "My Curse" the crowed exploded. What I love about this band, is they are always full of energy, Jesse Leach has a commanding stage presence and a powerful scream, then there is Adam Dutkiewicz. Adam is an over the top personality, he is constantly running around the stage, shouting whatever comes to mind. These guys consistently put on a great show and I'm looking forward to see where they go next.
Rise Against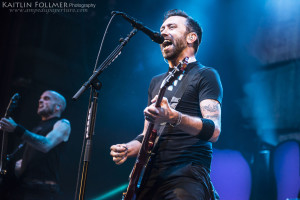 I was so excited when I heard Rise Against was coming around, whenever they come around on a club tour, one thing is always guaranteed, a packed house and a killer show. They came out to a stage set with  R I S E  illuminated against the back drop, and one by one they came running out. They opened their set with "The Great Die-Off" off of their latest album, as their set progressed, they played a healthy variety of songs throughout their discography. One of my favorite guys to watch is guitarist, Zach Blair, he is always moving around the stage, jumping off the risers and connecting with the crowd. Vocalist, Tim Mcllrath has such a commanding presence it's hard not to sit up and take notice. Rise against put on a phenomenal show, definitely a band to go see if you haven't already.