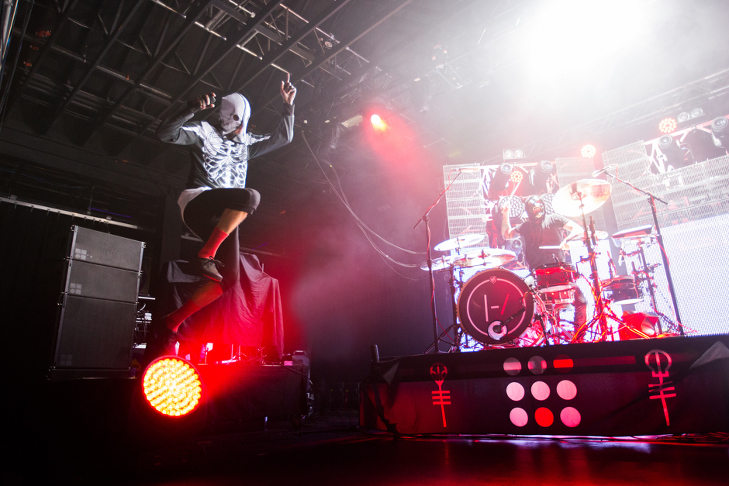 Photos and Review by Christa Rae Settle.
Twenty One Pilots fans, who refer to themselves as "The Clique," flooded D.C. streets for night one of Twenty One Pilots' two sold out shows at Echostage that kick off their Blurryface Tour. The line to get in wrapped around the block from the venue, with fans counting down the minutes until doors opened. "The Clique" is filled with extremely dedicated fans, showing their love for the band by wearing the band's t-shirts — some cover parts of their body in black paint like singer Tyler Joseph does often when performing or outline their eyes in red paint like drummer Josh Dun.
The alternative band from Columbus, Ohio, has seen amazing success since the 2013 release of their third studio album, Vessel, with their shows selling out in minutes, performing at many huge music festivals, and have received numerous AP Music Award and MTV VMA nominees. Now with the release of their fourth studio album, Blurryface, their tour sold out in seconds and the duo recently performed at the 2015 MTV VMAs with A$AP Rocky.
The energy and theatrics that Twenty One Pilots has on stage during the entirety of their set is phenomenal. As standard practice, Twenty One Pilots took to the stage in masks and performed the entirety of "Heavydirtysoul" in them. Tyler sang into a glowing microphone that was hanging from the top of the stage. Also as standard practice at a Twenty One Pilots show, Tyler uses the entire stage as if it was his own personal Parkour gym. He often jumps off and onto things like the platforms, speakers and his piano, as Josh tears it up on his drum set. These two were up to their usual antics throughout the set – like Josh performing on a mobile drum set over the crowd as they hold him up, and Tyler often jumping into the crowd.
I always recommend to everyone to check out Twenty One Pilots, no matter what their musical taste is. Their music is so universal, and it's so hard to describe it as one genre. The lyrics are so meaningful, I feel anyone can relate to it. The energy at their shows and from their fans is unrivaled.
Twenty One Pilots Setlist:
Heavydirtysoul
Stressed Out
Guns for Hands
Migraine
Polarize
House of Gold
We Don't Believe What's on TV
Can't Help Falling in Love (Elvis Presley Cover)
The Judge
Lane Boy
Forest / Pantaloon / Addict with a Pen / Screen / Ode to Sleep / Semi-Automatic
Doubt
Message Man
Holding Onto You
Ride
The Run and Go
Tear in My Heart
Car Radio
Goner
Trees
Echosmith took the stage prior to Twenty One Pilots, starting off strong with the latest single "Let's Love" off their studio album, Talking Dreams. Echosmith is made up of The Sierota siblings — Sydney (vocals/keyboard), Jamie (vocals/guitar), Noah (vocals/bass), and Graham (drums). However, Jamie is taking a few months off from touring as he and his wife, Ana, are preparing for the arrival of their baby boy! Josh Murty is filling in for Jamie on this tour, and doesn't disappoint. They did have a shorter set than expected though, only playing several songs. How they performed "Bright" was like a giant acoustic duet with the crowd. Echosmith is gaining a lot of fame – they've been on huge festival lineups, Sydney was a surprise guest at a Taylor Swift concert, "Cool Kids" is frequently on the radio, and Echosmith also is featured on a song by EDM artist Zedd – all just within the span of one year! They own the stages they perform on, and Sydney is just the cutest with her pink Wagasa (traditional Japanese paper umbrella) that she always pulls out while performing the album title song "Talking Dreams."
San Francisco reigning indie rock band Finish Ticket started off the night with a set of four songs total. Although short, they got the crowd pumped for the proceeding acts. They performed four of the five songs off their EP, When Night Becomes Day, that was just released on September 4th. Finish Ticket has a great sound and have good live energy, I'm excited to see them grow – the Blurryface tour is definitely a great tour to open for right after releasing an EP! The Clique was very accepting and excited about Finish Ticket and their performance, which means great things will be coming their way.