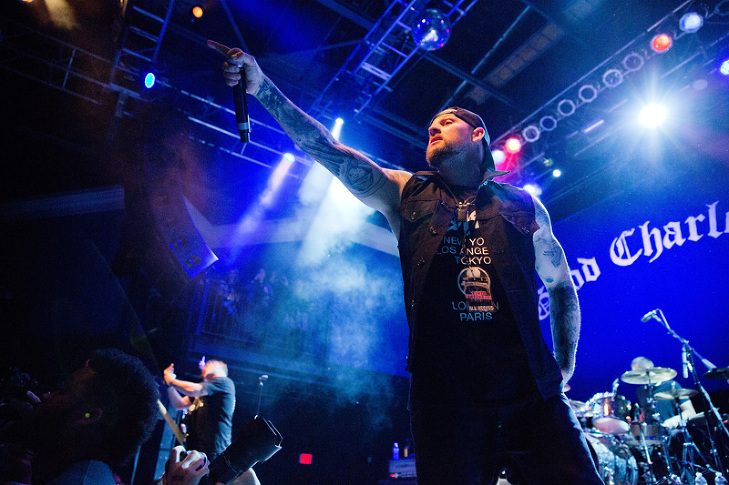 Photographs and Review by Stacey Prosper.
After a five year hiatus, Good Charlotte announced that they are back with a new album and a short tour! Their sixth record, Youth Authority, is due out this July. To kick things off, they announced a four city tour hitting Philadelphia, Washington D.C., New York and Boston. With Washington, D.C. being their hometown show, you know it was going to be a good time. Good Charlotte is Joel Madden (lead vocals), Benji Madden (lead guitar/backing vocals), Paul Thomas (bass), Billy Martin (rhythm guitar), and Dean Butterworth (drums).
The sold out show at 9:30 Club had people lined up hours before the doors were set to open as fans eagerly awaited the chance to see Good Charlotte back in action. Doors opened at 7:00pm with Good Charlotte slated to take the stage at 9:15pm.
At 9:18pm the lights dimmed and the crowd erupted as Good Charlotte took the stage and immediately started the show off with one of their most popular songs off of their 2002 album, The Young and the Hopeless, "The Anthem." They played different tracks off most of their albums, and even included a few extras that the fans had been requesting. Most of the requests being songs that they hadn't even played in about 6-10 years. Fan favorites like, "Seasons," "Mountain," "S.O.S.," "East Coast Anthem" and "Waldorf Worldwide" were belted out, and the fans sang along to every word.
Good Charlotte brings so much energy and love to their shows. When you are at their show you always feel appreciated. They make sure they always thank their fans. Good Charlotte tells their fans how much they mean to them and how if it weren't for them they wouldn't be where they are now. Their music speaks to many different varieties of people – so no matter how you dress, how old you are or what's going on in your life, you are always welcomed in as part of the Good Charlotte family.
Good Charlotte Set List:
The Anthem
Story of my Old Man
My Bloody Valentine
Girls & Boys
Riot Girl
The Motivation Proclamation
Hold On
Makeshift Love
The Young and the Hopeless
Little Things
40oz. Dream
The River
Dance Floor Anthem
I Just Wanna Live
Lifestyles of the Rich and the Famous
Waterparks, a pop-punk band from Houston, Texas, took to the stage first. The band was formed in 2011 and is comprised of Awsten Knight (lead vocalist/guitar), Geoff Wingington (backing vocalist/guitar), and Otto Wood (drums). They have been quoted stating that one of their musical influences is Good Charlotte, along with Sum 41, Blink-182 and Green Day. Waterparks released a new LP in January, titled Cluster. They are set to perform on every date of this year's Vans Warped Tour.
Waterparks Set List:
Mad
Crave
Silver
No Capes
Pink
Natural Blue