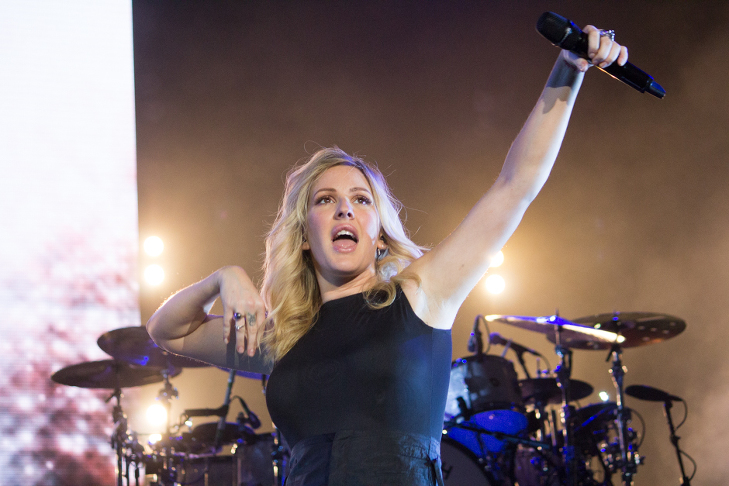 Photographs and review by Christa Rae Settle.
UK indie pop singer Ellie Goulding brought her Delirium Tour to Merriweather Post Pavilion in Columbia, MD on Monday night performing for an "army" of her fans.  With a full band and back up singers and dancers, Ellie took the stage with a gold drapery hanging as her back-lit silhouette showed through the drapery during "Intro (Delirium)." Then as the dancers pulled apart the drapery to reveal Ellie, she began performing "Aftertaste" off of her recent album, Delirium.
The most emotional and powerful performance of the evening was "Army" in which Ellie asked the crowd to pull out their phones with the flashlight on before beginning to sing. She stood there for a minute, taking it all in. She then explained that "Army" is dedicated to her best friend, and suggested her fans hug their best friends right as she began to perform the recent single.
The show took a bit of a political turn after Ellie spotted a fan holding up a "Fuck Donald Trump" sign written in rainbow colors. She didn't say much, but she pointed it out and had the fan show it to everyone. Also, with the show being just two days after the horrific Orlando shooting, fans held up "love conquers hate #orlando" signs, which Ellie took and held up on stage, as well as a rainbow flag that read "love has no labels" that she held pressed against her chest while performing "Anything Could Happen." Her last encore song, "Love Me Like You Do" was a tribute to the victims, displaying hands in a heart shape in rainbow colors on the screens. She later posted on social media a photo from encore stating that her performance at Merriweather "was only about love." These actions show how beautiful of a person Ellie Goulding is inside and out.
Aside from the emotional performances, Ellie Goulding's performances are upbeat and fun. She is a phenomenal live performer. Merriweather Post Pavilion turned into a huge dance party for much of her set. Her set consists of 22 songs and are a good mix of her popular music from the recently released, Delirium, to her first album released in 2010, Lights.
Ellie Goulding set list:
Intro (Delirium)
Aftertaste
Holding on for Life
Goodness Gracious
Something in the Way You Move
Outside
Devotion
Keep on Dancin'
Don't Need Nobody
Explosions
Lights (sung as a ballad)
Army
Lost and Found
Figure 8
On My Mind
Codes
Don't Panic
We Can't Move to This
I Need Your Love
Burn
Anything Could Happen
Love Me Like You Do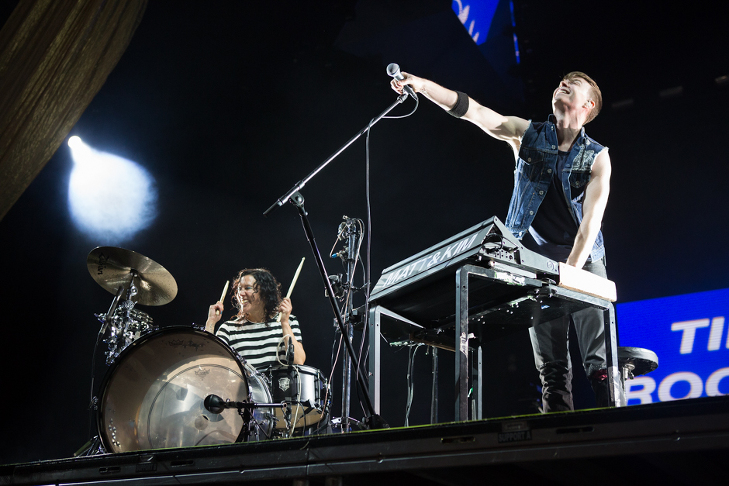 Opening for Ellie Goulding was the energetic Brooklyn based indie duo, Matt and Kim.
We have had the honor of covering Matt and Kim every time they have come to the D.C./Baltimore metro area to perform since 2013. Last night's show was the largest crowd we have seen them perform for in our area other than popular music festivals like Firefly Music Festival in Dover, DE.
Matt and Kim were the perfect start to the evening. Matt said, "we're here to warm you up" as he encouraged the crowd to get up and dance. Not only do their catchy and ever so popular dance tunes force people to move to the beat, but it's also their energy and personalities that really make Matt and Kim performances so unique and fun. Their energy stirs excitement from everyone. From how Kim will look straight into the crowd with the most excited look on her face as she is pounding her drum kit to when Matt jumps off his keyboard stool, they are always engaging the crowd and having a good time.
Matt and Kim recently released a new EP back in April titled We Were The Weirdos. Surprisingly, they didn't perform any of the four songs from their EP during their set. For the first time, they added a cover to their set, which was "Umbrella" by Rihanna.
Matt and Kim set list:
It's Alright
Block After Block
Cameras
Let's Go
Umbrella (Rihanna cover)
Silver Tiles
Get It
Can You Blame Me
Tonight
Daylight
Hey Now