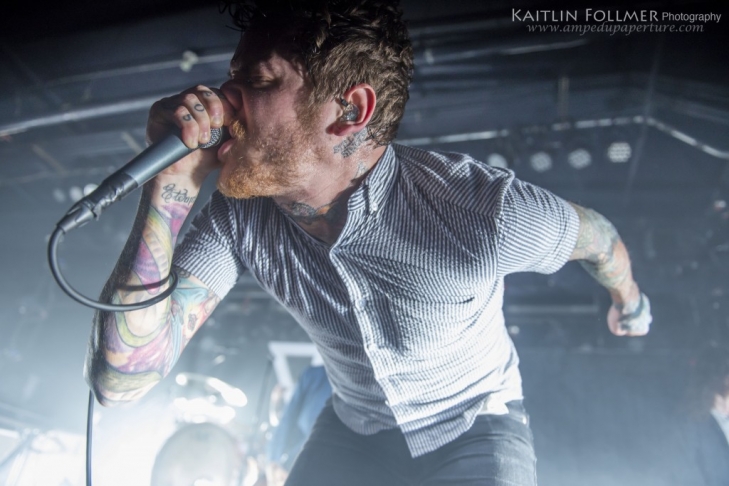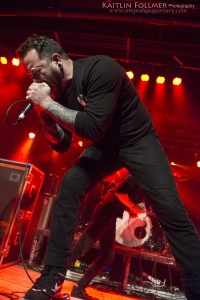 Dangerkids
I was pretty excited to hear these guys were on the bill for the Take Action tour, I have heard a lot about them but haven't had the opportunity to check them out. Formed in 2012 these guys are just getting started.  Releasing their debut album on Rise Records in 2013, Dangerkids have already solidified a slot on Vans Warped Tour for the summer of 2014.  Right off the bat these guys ran up to their drum kit, had a little pep talk, and they were off. Lead vocalists, Andy Bane and Tyler Smyth had great chemistry on stage, they easily bounced off one another, no one outshined the other. Sometimes with multiple vocalists, the stage can get crowded and one vocalist will be more prominent than the other. This really wasn't the case for these guys, they were very comfortable on stage and sounded great. I am eager to see how they preform this summer on Vans Warped Tour.
I Killed the Prom Queen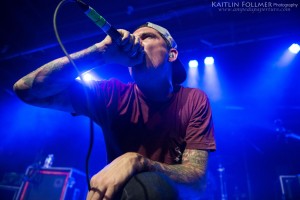 This was my first time seeing Australian rockers, I Killed the Prom Queen, I had no idea how they would be able to stand up to powerhouse metalcore bands, The Devil Wears Prada and The Ghost Inside, but as soon as frontman, Jamie Hope ran out to the front of the stage and attacked the crowd head on, I had no doubts they would be able to hold their own. Hope has spot on roaring growls that could demand anyone's attention and he had no problem jumping off the stage to get in your face. Guitarists, Jona Weinhofen and Kevin Cameron  followed Hope's lead and just destroyed the stage. Everyone in the venue was on their feet moving around whether it be in the mosh pit or just rocking out, I am excited to see more of them in the near future.

The Ghost Inside
Keeping with the theme, this was yet another band I had yet to see live. I have always heard good things about their live show and they definitely sparked my interest. They didn't start out quite as strong as the opening bands, taking a moment to fall into their groove. But once they were warmed up, they were fantastic. Bassist Jim Riley was the first to grab my attention, he was all over the stage, shouting lyrics back at the people in the first couple of rows and making a genuine connection with their fans.  Frontman, Jonathan Vigil had so much energy he was all over the stage falling into these stances as he screamed in your face. Towards the middle of their set a massive circle pit broke out that occupied a large portion of the venue.
The Devil Wears Prada

I have always really loved seeing The Devil Wears Prada, they are a heavy christian, metalcore band and every time I have seen them, they were better than the last. This show was no exception. Before the lights go on and the opening music is still playing over the venue speakers, Mike Hranica comes out, stomps around the stage a couple times, as soon as he looks up the stages lights up and he lets out this loud throaty scream and moves into their first song, "Sailor's Prayer." Hranica always reminds me of a wind – up doll, he is never in the same place for more than a couple of seconds before he is stomping and thrashing around the stage. Guitarist and backing vocalist, Jeremy DePoyster presents a clean contrast to Hranica's raw screams, they bounce off of each other flawlessly.
Dangerkids
I Killed the Prom Queen
The Ghost Inside
The Devil Wears Prada