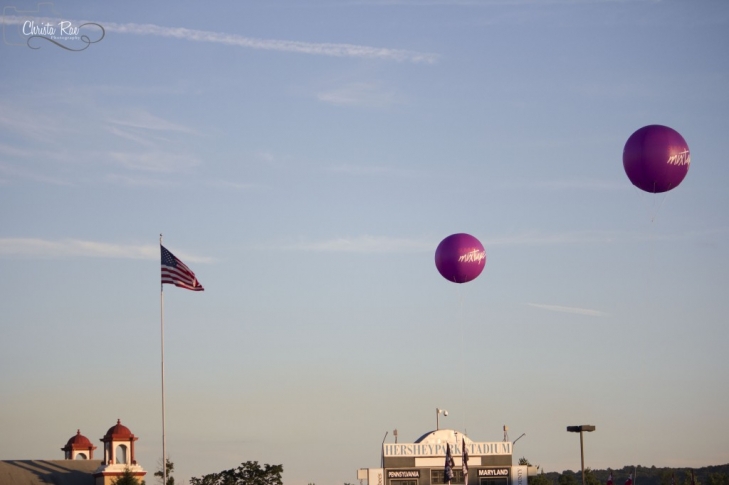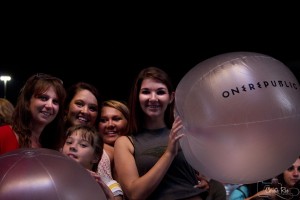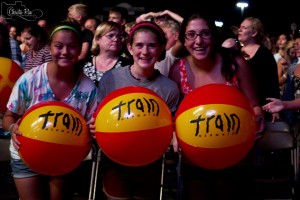 Photographs and Review by Christa Rae Settle.
In it's second year presented by Live Nation and VH1,  Mixtape Festival brought together top music icons of the pop and rock genres for one musically packed two day festival at Hershey Stadium in Hershey, PA. The sun was out, making it a hot day, but it was the perfect weather to open up the festival. The seats were set, the lemonade was fresh and chilled, and starting at 4:55pm the stadium was filled with live music for the next six hours. The lineup of the night was filled with very successful rock bands and a couple of pop artists/bands – Train, OneRepublic, The Script, Gavin DeGraw, Hanson and Serena Ryder.
One very unique aspect to the festival was the stage – it was a carousel stage which rotated. In the middle was a divider, separating the stage into two parts. It appeared to just be a black backdrop behind the bands, but what it was hiding was the next band's stage. Once a band's set ended, the carousel stage rotated to reveal the next act's stage already set. This allowed for very short intermissions in between each act.
At approximately 10:00pm, the stadium turned into a train station with loud locomotive sounds being blasted through the subwoofers and speakers as the headlining act of the night, Train, arrived on stage. Opening with their 2003 hit "Calling All Angels", lead vocalist Patrick Monahan was all smiles as he greeted the packed stadium that was singing along to all the lyrics. Alongside Patrick is Scott Underwood on drums and Jimmy Stafford on guitar, which makes up the band's core trio.
A few songs into Train's set, Patrick decided to leave the stage and run all around the stadium to serenade almost every audience member to "Marry Me" which drove girls, women and even men of all ages crazy, leading them to run around and try to follow him while screaming. Then the band transitioned to "Save Me, San Francisco" and Patrick returned to the stage. During their performance of "Meet Virginia", a hit from 1998, Patrick said to the crowd "…but I'd rather be in Pennsylvania." Mixtape Festival was a significant stop on Train's current tour since Erie, Pennsylvania was Patrick's hometown.
Train is a band that really brings the audience into their performances, literally. There had been a contest earlier that day for contestants to dress up as Mermaids and join the band on stage for "Mermaid", one of the songs off their latest album California 37 released in 2012. They also gave many fun souvenirs to audience members, like beach balls and t-shirts signed by Patrick on stage right before tossing them into the first few rows. He also tossed a guitar pick or two.
For "Bruises" Patrick had the beautiful country music singer-songwriter Ashley Monroe sing the duet with him. At the end of the night, Train invited Ryan Tedder of OneRepublic, Danny O'Donoghue of The Script, Gavin DeGraw, Taylor Hanson of Hanson, and Ashley Monroe to join him in closing out the festival's first night. Together, these artists sang a song titled "The Weight". This was a great way to close the night out, showing us how close some of these artists are and bringing the fans of all the bands together for the last few minutes of the first day of Mixtape Festival.
An hour and ten minutes before Train headlined the night, OneRepublic took the stage in complete darkness to the song "Light It Up" on their third album Native released this past March. The lights remained dimmed and only lit up when lead vocalist Ryan Tedder sang the lyrics "I can light it up for you." Then, Brent Kutzle put down his bass guitar, stepped up to the front of the stage with a cello and a chair, sat down, and started playing the well known beginning instrumental of OneRepublic's 2009 hit "Secrets". The lights still remained dim and shifting between shades of blue, red and magenta until the chorus kicked in. Since their first debut studio album Dreaming Out Loud in 2007, OneRepublic has skyrocketed to success. Their set contained songs from all three of their studio albums like "Apologize", "All The Right Moves", "Stop and Stare", as well as a cover of Kanye West's "Gold Digger" for fun, which got almost everyone out of their seats and dancing.
Even though Ryan was fighting off a cold which caused him to have a sore throat, he still belted out his music for the audience, only mentioning it once. He drank tea on stage and jokingly blamed Gavin DeGraw for getting him sick. A little later into the set, Ryan tossed his tea bag from his cup into the crowd. OneRepublic also threw beach balls into the crowd that displayed their band name and lit up inside. Many fans grabbed them up and held on tight to them to take home this special souvenir of the show.
The Script, an Irish-based rock band who have recently experienced international success, were the third to last band of the night. The band members melted the crowd with their Irish accents as they spoke between songs to their fans. They joked that they were up for adoption since they have such a love for America and asked the crowd who wanted to adopt them. Everyone screamed at that moment. Who wouldn't want to adopt a chart topping sexy Irish rock band? The Script is a trio consisting of lead vocalist Danny O'Donoghue, Mark Sheehan on the guitar and Glen Power on drums. The band does display their Irish heritage on stage though, as Danny decorates his microphone with the flag of Ireland. Danny wanted to make sure that every person in Hershey Stadium got to be up close to him. During one of their first songs of their set, Danny jumped into the middle of the front floor sections and singing right to his fans, as well as holding his microphone out to people to sing into.
Later on in their set, Danny visited all of the stadium side seating who are farther away from the stage. He went into each section and stood in the aisle and sang with crowds of people surrounding him, pointing their cell phones and cameras at him to get their best Instagram shot of the weekend. The Script's setlist included songs from their three studio albums "Breakeven", "We Cry", "For the First Time", and ended their set with recent hit "Hall of Fame".
During the peak of the golden hour sunset at approximately 7:05pm, Gavin DeGraw performed his hit songs, new and old, from his recently released single "Best I Ever Had" to "Chariot" from his 2003 debut album. Of course, he performed "I Don't Want to Be" which was Gavin's 2003 single that raised him to the top of the charts and to his current success. Ryan Tedder of OneRepublic joined Gavin DeGraw to sing "Not Over You" which is a song they co-wrote together.
Gavin, who was also sick, didn't let that stop him from giving his all in his performance. He was one of the most energetic performers of the night. He danced along to the music as he sat on his piano bench and played his heart out of the piano, an instrument that he has been playing since the age of 8. When he wasn't playing the piano, he was up running around the stage interacting with his bandmates as well as the crowd. He even came out into the first section of seats as he sang one of his songs.
The infamous Hanson paved the way for the all boy pop rock bands to follow that night. Brothers Taylor, Zac and Isaac Hanson have been performing since their explosion in 1997 with their first studio album Middle of Nowhere which had their most successful and well known hit "MMMBop". Fans young and old danced and sang along to Hanson's hits from the 1990's and early 2000's as well as their recently released album Anthem.
Hanson has a very hardcore fan base that has no age limit. Their newest songs appeal to their fans that were listening to them since the 90's as well as younger fans who have recently discovered the band.
It became apparent that this night was mainly a combination of two current tours – one being OneRepublic's headlining tour with Serena Ryder and the other being Train's headlining tour with The Script and Gavin DeGraw. Hanson is currently on their "Anthem" World Tour.